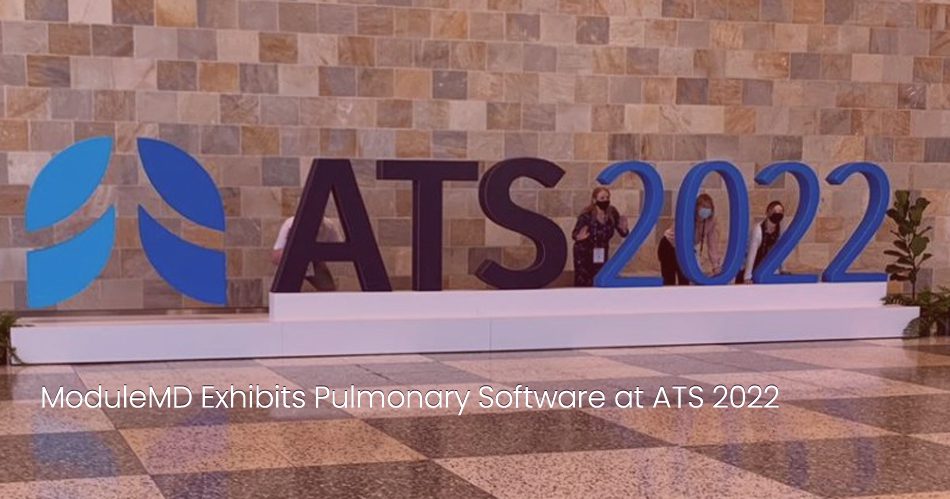 After holding a virtual conference in 2021, the American Thoracic Society returned to in-person events with the ATS 2022 International Conference, hosted at the George R. Moscone Convention Center in San Francisco, California. More than 200 exhibitors showed up ready to "Reconnect and Re-Engage" during the three-day event, including ModuleMD.
As the leading physician-designed SaaS solution for pulmonologists, ModuleMD helps practices around the country increase efficiency, improve their clinical performance, and build better relationships with patients.
Our pulmonary EHR Saas ModuleMD features flexible documentation, giving practitioners the freedom to choose whether they want to use templates, dictation, or free-form text to document patient encounters.
All questionnaires, patient education materials, visit notes, and patient forms are customized according to the practice's requirements, ensuring that each document fits seamlessly into the existing workflow. ModuleMD makes it easy to track results over time. It integrates with multiple spirometry devices, digital imaging tools, and national laboratories.
Not only does pulmonary EHR Saas ModuleMD software make it easier to collect information from medical devices, but it also allows clinicians to track patient vital signs, document biologic and medication administration, and score sleep study questionnaires, Asthma Control Tests, and COPD Assessment Tests within a matter of seconds. When using integrated remote monitoring devices, charges are captured when the procedure is performed, making it possible to download the results directly to the patient's note. This makes it easier and more convenient to track results and identify key trends.
While exhibiting the pulmonary EHR Saas ModuleMD, representatives had the opportunity to interact with current clients, vendors, and providers from all over the world, including Canada, Germany, Mexico and France. Many vendors expressed an interest in integration projects and several providers indicated that they were exploring options for opening new, independent practices.
With so many remote patient monitoring tools, testing devices, and laboratories used by pulmonary and sleep medicine specialists, there's significant demand for interoperable solutions that increase efficiency and eliminate redundancy. ModuleMD is an integration-friendly solution that makes EHRs the source of fact for pulmonary and sleep medicine practices of all sizes.
The ATS International Conference is scheduled to return to Washington, D.C., from May 19 through May 24, 2023. ModuleMD will attend to exhibit its specialty products while connecting with clients and vendors from multiple specialties.