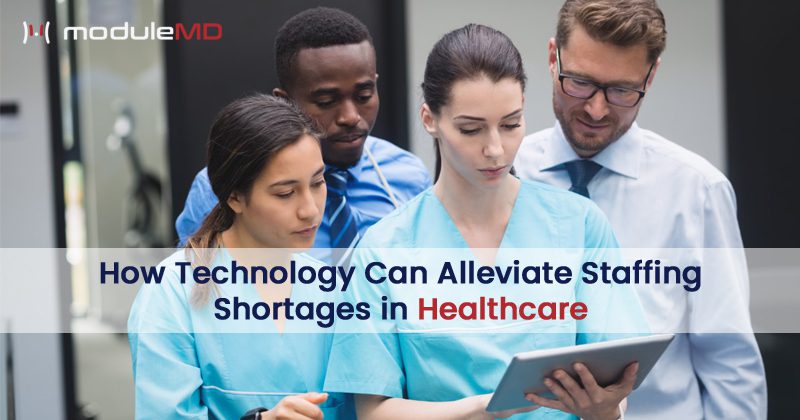 The COVID-19 pandemic affected the healthcare industry in many capacities, pushing the boundaries in new and challenging ways. One of the most harrowing ramifications? An unprecedented staffing shortage. From practitioners who pivoted careers due to burnout to those who retired early to avoid the risk of illness, many facilities are feeling the strain of under-staffing. And the problem may get worse before it gets better; one 2021 study found that 30% of medical staff considered leaving the field, and 60% said the stress of the pandemic negatively affected mental health.
With nationwide shortages, hospitals and other care facilities are left with a growing problem and no quick, easy way to fix it. Besides raising wages to often untenable levels, there are few avenues to attract new employees. The consequence? Fewer doctors and nurses providing more care.
So what can be done to alleviate this burden? For many facilities and practitioners, the answer will be technology. But not any technology – the right technology to meet specific healthcare needs for practitioners and patients alike.
The Role of Technology in Healthcare
Technology plays a key role in many areas of healthcare, from patient record management to billing. In many cases, these solutions are designed to reduce the onus on staff members, but when software solutions aren't ideal for the job at hand, it can actually creates more issues. A a 2019 American Medical Association study indicated that the better an EHR is, the less likely physicians are to experience burnout.
However, severe staffing shortages like the ones being faced today can make result in even adequate technology failing to provide the support necessary to optimize patient care. When streamlined solutions aren't in place that can improve the services available, everyone loses.
Luckily, EHR and practice management systems have come a long way in the past several years, offering contactless and automated ways to replace or augment administrative staff and low level providers. From payment processing to interfacing with patients, technology can play a key role in reducing the burden on hospital and practice staff, even when employees and resources are already stretched thin.
How Technology Can Facilitate Quality Care
It's common to assume that face-to-face contact with a provider is the only way to deliver quality care, but as technology evolves, innovative solutions are replacing old school methods. However, it's important to invest in the right solutions rather than the cheapest or easiest options. In most cases, this means looking for opportunities aimed at individual physician needs rather than products that are designed with larger enterprise use in mind.
Automation is a key functionality of effective healthcare technology, reducing the number of tasks providers have to handle by hand in an already-busy day. Things like filling prescriptions, checking on lab work, communicating with patients, and scheduling appointments shouldn't require a lot of time or energy; these tasks should be seamless and simple to integrate into a jam-packed schedule. In addition, providers can save time with specialty products customized to the needs of their business rather than perceived needs by non-medical software developers.
Take ModuleMD AllegyModule, a specialized tool for allergy-related practices. Rather than using a one-size-fits-all software platform, clinics specializing in immunology and allergy treatments can access resources customized to their unique needs. This includes support for easy skin test orders and results, patient handouts, injection administration questionnaires, and custom allergy and skin panels.
Clinics can even implement an automated check-in system for injection patients, using an app-based service to get patients signed in and prepared for their appointment. Then, when the time comes for treatment, patients can enter the clinic, receive the services they need, and go on with their day without requiring meeting with an admin or sitting in a waiting room. These kinds of avenues can take a significant amount off pressure off of a provider, putting the busy work in the hands of an automated service.
With a platform created by physicians with physician needs in mind, it's easier for doctors to leverage technology in a way that works for them. In addition to general practice resources, ModuleMD also offers specialized tools for pulmonology, sleep medicine, and internal medicine. Overall, these options work to streamline capabilities and mitigate the consequences of too few employees in order to successfully accommodate patient needs.
Resources for physicians and other providers can be a great way to alleviate the pressures when staffing levels fail to hit the mark, but all solutions aren't made equal. For the most effective and comprehensive approach to organization and patient care, an EHR program that meets your needs should priority number one. Rather than sticking with the basics, explore tools that fit unique practice needs, from specific fields of medicine to physician-friendly alternatives to more prominent software. With features designed to meet the needs of doctors and their communities, ModuleMD has plenty to offer those in need of a functional, fast, and easy EHR or PM solution.