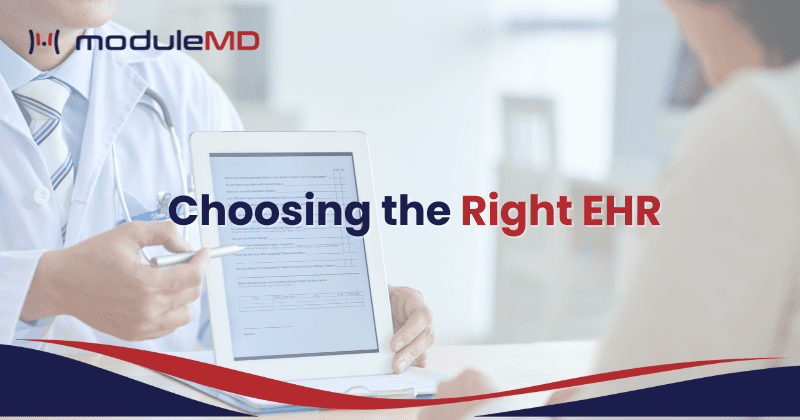 5 Key Questions for Choosing the Right Electronic Health Record (EHR)
So you have decided to look for a new Electronic Health Record (EHR) system. What next? Choosing the software, right! So, how do you select the one right for you? What factors do you consider while choosing the software that works for your practice?
With hundreds of EHR systems out there in the market, selecting the EHR system that addresses your practice needs is not always simple. You have to take a lot of factors into consideration when choosing an EHR. Not only should the software you choose overcome the challenges you are currently facing, but also streamline processes and drive efficiency, building a partnership for success. In a nutshell, the EHR you choose should be able to deliver what your practice really needs.
5 Key Questions to Ask Potential EHR Vendors
Here are a few questions to ask as you begin your search for a new EHR.
Does the New EHR System Meet your Practice Needs?
Not addressing the needs of the healthcare practices is the primary reason behind switching a new EHR system. The foremost thing you have to do is to list down the essential features, which include-prescribing software, automatic billing, scheduling features, and so forth. Also, it is important to get input from doctors, nurses, administrative staff and other employees so as to ensure that all the aspects of the practice have been considered. The best practice is to map your workflow and patient visit flow so as to evaluate how well the new EHR system will fit within your facility. This would help you cherry-pick the one that's geared towards your needs.
The transition to a new EHR can be the most daunting task for some practices. It is important to consider the level of support, the EHRs process for on-boarding new clients, and overall ease-of-use of the system. Easy-of-use is one of the most important factors to consider. Having an EHR that is intuitive and fundamentally works for your practice can make training staff much easier. So, understanding how the new EHR can be customized for your practice really matters. In addition to this, you have to know what level of support the EHR vendor provides during set-up and training so you know what to expect during this process.
Does the EHR Provide a Single Sign-on for All of Your Daily Software Needs?
Choosing a single sign-on EHR system that is seamlessly integrated with a comprehensive practice management, Revenue Cycle Management, Patient Portal, ePrescribing and Appointment Reminders can reap significant benefits over the long run. With single sign-on, you can reduce redundant data entry and easily switch between multiple applications through one-time login, thus making your practice even more efficient.
Is the EHR 2015 Edition Certified?
The ONC (Office of the National Coordinator for Health Information Technology) sets EHR certification standards and the EHR system you choose should be certified by ONC-Authorized Testing and Certification Body ("ONC-ACB"). ONC-ACB certification ensures that EHR has met Meaningful Use objectives and measures. In 2018, practices will need to begin using 2015 Edition Certified EHRs to meet Meaningful Use Stage 3 requirements, an integral part of MACRA. It is important to find out how the EHR is keeping up with regulations and their level of support for MACRA/MIPS requirements to ensure that your practice isn't leaving money on the table.
What Kind of Support does the EHR Provide after Implementation?
Implementing a new system isn't just choosing a piece of software – in fact, you are choosing a EHR partner. To ensure the success of your business decision, you have to know the extent of support your vendor provides in addition to offering technical assistance with upgrades and fixing bugs.
The vendor should provide unlimited support without any hidden monthly fees and be willing to train new users on how to use the system.
You are not just buying software; you're interviewing potential vendors that you can build a partnership with to transform inefficient practices into more efficient. Using this as a guide will help you make informed decisions to ensure you choose the right EHR system for your practice.