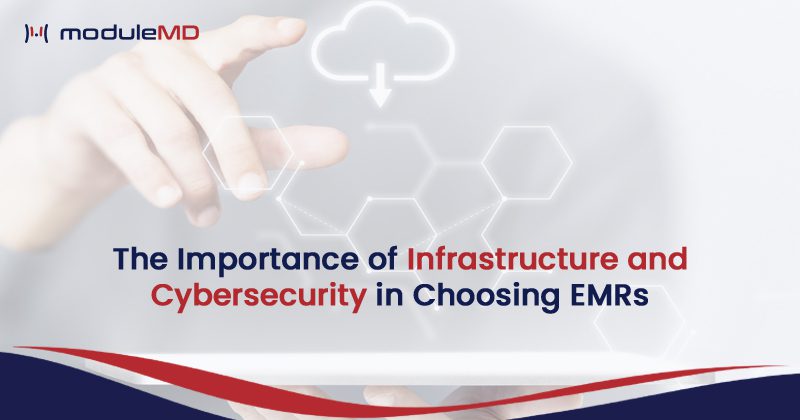 Image by rawpixel.com on Freepik
The Importance of Infrastructure and Cybersecurity in Choosing EMRs | Azure
Keeping medical records safe needs to be a priority. When choosing an EMR, it's important to consider the cloud infrastructure in place, including cybersecurity measures to keep patient data private.
Azure Cloud Cyber security EHR
When it comes to protecting patient data, from medication management to medical records, the right approach to cybersecurity is key. An EMR platform lacking proper cybersecurity measures can put important information in harm's way, potentially putting an entire practice at risk. As such, choosing a platform for EHR management with the right infrastructure can be the difference between success and failure.
While weighing the pros and cons of one EMR system over another, make sure security policies and practices are a part of your approach. This is what you need to know about keeping data safe when in the cloud, and why choosing a provider like ModuleMD can be a great way to keep your information, and the wellbeing of your medical practices, safe.
The Importance of Cybersecurity
For those who don't work in the tech space, the idea of cybersecurity can seem a little overwhelming. This is natural, but in the case of privacy and confidentiality, it's important to at minimum grasp the basics – particularly where patient info is concerned.
In general, EMR programs come in two distinct forms: local and cloud-based. The former involves keeping all patient information on a local server, and the latter when a cloud-based structure is in place. While the former can sometimes be safer from an overall perspective, it's very limiting in practicality and can create inefficiencies that compromise profits. Doctors and other practitioners must be on-site to access information, which eliminates any kind of flexibility. As such, cloud-based, also known as remote, systems tend to be more popular. Clouds can be private, which may be more costly and less secure, or public – a product provided by a large data company that hosts solutions for many different businesses and individual users.
However, with mass data storage comes the possibility for vulnerability. Should you choose a solution that utilizes cloud storage, you should be sure that safety is always a priority. Without the right approach to cybersecurity, your patient data could be at risk, which could put both your reputation and your practice itself in jeopardy.
Factors to Keep in Mind
When evaluating EMR options, keep the following points in mind:
Potential areas for risk or vulnerability
The availability of two-factor authentication and VPN access for remote use
Email security measures when sharing information among EMR users
How cybersecurity measures apply at each point of access
Protocols when breaches or attempted breaches occur
Disaster recovery resources available
Cloud Security Techniques
The cloud may be a little confusing, but understanding the tech from a comprehensive point of view isn't as scary as it sounds. As a provider using EMR solutions, all you need to know is a) what your EMR has to offer, and b) the security measures required to best protect your patients. Not all providers, and even all cloud servers, are the same; just because an EMR provider is hosted in the cloud doesn't mean it's safe.
HIPAA Compliant Clouds
All healthcare providers know the importance of HIPAA, but not all cloud providers are able to meet the necessary demands. However, some platforms, like Microsoft Azure, take HIPAA compliance into account when implementing cybersecurity practices. This means that these providers understand the rules surrounding HIPAA and take active measures to safeguard EMR clients from violations.
Rapid Disaster Recovery
So-called disasters, like security breaches and downtime, happen, but how a cloud handles these situations can make all the difference. A competent approach to disaster recovery (DR) includes things like regular backups, including to off-site servers, as well as access to remote machines without a loss of data or functionality. Large public clouds are able to minimize things like downtime and DR challenges due to a worldwide footprint and extensive support services.
Ongoing Evolution
The world of computing and cybersecurity moves quickly, and what was considered cutting edge one year may be obsolete the next. Cloud providers need to stay on top of evolutions in the space, ensuring safety and security for all clients. EMRs hosted on public clouds that can't keep up with the state of the market should be carefully scrutinized, as well as EMR products that aren't taking advantage of innovative evolutions to provide better user experiences.
Secure Your Records with ModuleMD
Keeping your patients' medical records secure should be a top priority. With ModuleMD managing your EHR, you can feel safe and confident. ModuleMD is hosted by Microsoft Azure, one of the safest cloud-based solutions available. The move to Microsoft Azure has allowed ModuleMD to make incredible leaps forward, starting with enhanced privacy and cybersecurity measures and ending with a better client experience due to extended access and ease of use. In addition, scalability is much enhanced, as growth isn't restricted by private cloud limitations. Marketing efforts are improved as well; the backing of one of the most respected and widely-used products is incredibly compelling.
Above all else, using Microsoft Azure as a starting point allows for innovation without any of the traditional pain points. It's possible to grow and expand as client needs evolve, providing a way to accomplish provider goals, even as the scope of a medical practice shifts with new or broadening patient populations. With the right cloud infrastructure, it's possible to keep data safe and secure without compromising the customer experience.
ModuleMD is a leader in flexible, innovative EMR solutions. With the ability to offer support for specialized practices across the medical industry, our services, ranging from invoice management to patient information organization, can accommodate everything your practice needs to grow.
For more information on ModuleMD Healthcare's solutions and resources, visit our website