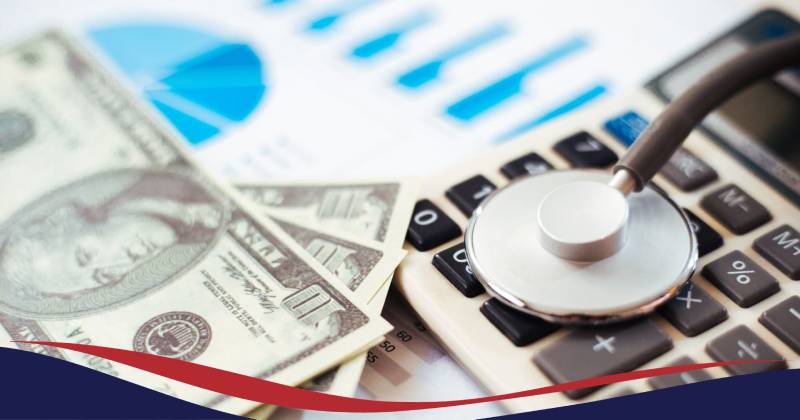 It's no secret that the US economy — and indeed the global economy — is not in great shape in 2022. With negative growth in the first two quarters of the year and the third quarter looking likely to follow suit, the US is now officially in recession . But how will this recession affect a healthcare sector already struggling with the lingering effects of the COVID-19 pandemic?
Hangovers From COVID-19
The lasting impact of the COVID-19 pandemic should not be underestimated. A significant proportion of those infected with the virus has long-lasting effects , including mental health problems, organ damage and general fatigue. This continues to place a strain on healthcare services. In addition, many people have found themselves unable to work and have lost their health insurance. Others with pre-existing conditions were unable to access essential treatments during the crisis, resulting in a worsening of these conditions. Even in normal economic times, these issues would present problems for the healthcare industry as a whole, but the recession is expected to make things considerably worse.
Staffing Issues
Frontline healthcare workers were hit heavily by the COVID-19 pandemic. As a result, mortality rates and long-term effects were highly prevalent among them. Healthcare staff were also under a lot of pressure during the pandemic, leading to increased instances of burnout, and unprecedented numbers have left the profession entirely. The problem is ongoing, with up to 47% saying they will leave by 2025 . The recession and high inflation is going to make it difficult to retain these skilled people without offering significant incentives.
The Inflation Reduction Act
The recently passed Inflation Reduction Act contains measures that may assist the healthcare industry, softening the blow of the recession. These measures include rebates for prescription drugs and insurance subsidies. With millions of people expected to be increasingly unable to afford healthcare insurance, these measures somehow retain access to healthcare for millions of Americans, a real boost to the healthcare industry.
A Perfect Storm
Even with the assistance offered by provisions of the Inflation Reduction Act, the healthcare industry still faces a perfect storm; the lingering effects of the COVID-19 pandemic coupled with the effects of inflation on supplies, equipment and staffing costs and the recession cutting into consumers' ability to afford healthcare. To survive and thrive in this environment, the industry will need to adapt. To accomplish this, there are many avenues to pursue, including:
Transformation of Care Delivery
Delivery of healthcare in the US is becoming increasingly patient-centric, with treatment and consultation options becoming available at home and in virtual and ambulatory settings. The recession will drive this further, with more value-based and risk-bearing decisions to make savings across the industry. To achieve maximum savings, it's expected that perhaps 20-25% of treatment and consultations will need to be moved away from hospitals and into homes and other sites for clinically appropriate care.
Simplified Administration
Around a quarter of the money spent in the US healthcare system is currently spent on administration. There are currently drives to reduce this in progress, and we can expect the recession to increase pressure. Ways to make savings include reducing the manual workload of nursing managers and doctors; increasing the use of Electronic Health Records (EHR) can help with this. As well as decreasing the likelihood of notes going missing, they reduce the amount of time searching for details and reduce the chances of incorrect prescriptions and wrong diagnoses. Although there are costs involved in implementation, EHR systems can provide a significant return on investment by providing better outcomes for all stakeholders, including patients,, providers and employees.
New Technology
The healthcare industry has historically been conservative in its approach to new technology. This comes both from consumers who are resistant to change and from clinicians hesitant to alter their methods. Complex regulatory systems that are slow to accommodate changes are also an issue. However, it has already been demonstrated that the industry can move quickly when the need is there; during the COVID-19 pandemic, telehealth appointments increased by 78 times when compared to the previous year. Although the figure stabilized, it is still much higher than pre-pandemic and it seems telehealth appointments are here to stay as an integral part of the healthcare system. The cost-cutting pressures of the recession are likely to provide a push for new technologies to enter the healthcare industry, including the deployment of advanced AI systems in clinical and non-clinical applications. The use of connected devices and virtual care to promote disease management is another avenue where use of technology could provide long-term cost reductions.
Clinical Productivity
Labor productivity in the healthcare industry has declined significantly over the last twenty years, with staffing costs increasing much more rapidly than the overall growth in the sector. Significant unused capacity has been identified in physicians' schedules, such as patients not showing up for appointments. Some of the technological advances outlined above can reduce this unused capacity and boost productivity for the sector as a whole. EHR systems have a critical role to play here, reducing the need for patient reassessment due to incorrect diagnoses and medication prescriptions. Of course, the need for increased clinical productivity must be weighed against the risks of burnout for clinicians at all levels, as this could have the opposite effect to that intended, increasing costs for covering for burned-out staff and recruiting new clinicians.
The Outlook For the Healthcare Industry
In summary, the recession poses many problems for the healthcare industry, with patients unable to afford the healthcare they need, inflationary pressure on budgets and more problems with staff retention. However, if the industry can modernize, adopting new technologies and working practices, including increased use of electronic systems such as EHR, these problems can be minimized.
ModuleMD can help prepare healthcare practices for the future, streamlining processes with revenue cycle management , billing services, payment processing and much more. This helps to free up time for clinicians, improving productivity and simplifying admin functions. To find out more, take a look at our full list of services and book a FREE RCM analysis today.